1980-11-11 Leicester - Queen's Hall (England)

Mainset:
The Holy Hour
Play For Today
Three Imaginary Boys
Primary
In Your House
10.15 Saturday Night
Accuracy
At Night
Another Day
All Cats Are Grey
M
Fire In Cairo
Jumping Someone Else's Train
Another Journey By Train
Grinding Halt
A Forest
Seventeen Seconds
Encore 1:
Forever
I'm Cold
Killing An Arab
Encore 2:
Subway Song
Boys Don't Cry
probably more songs have been played ?

Robert Smith
Simon Gallup
Laurence Tolhurst

Songs played:
22
(17 | 3 | 2)
Day of the week:
Tuesday
Tour:
'The Primary Tour'
Attendance:
Capacity: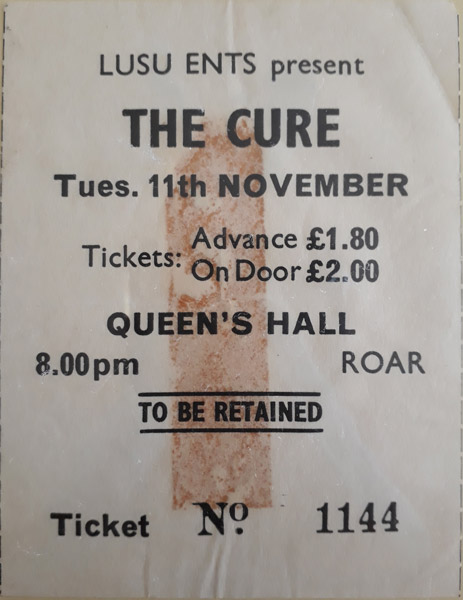 thanks to Carolyn H.

Chris Lavelle


Venue address:
[no address yet]
Venue related links:
Venue trivia:
The Percy Gee building, home of the Students' Union, also houses the Queen's Hall, which has been used as a music venue in recent years.
The Queens hall closed on 02. March 2018
The Cure appearances at this venue:
Thanks very much to everyone sending mails with contributions for the website.
Please be patient,
I'll include it all ASAP.