1989-05-30 Athína - AEK Stadium (Greece)

Mainset:
Plainsong
Pictures Of You
Closedown
Kyoto Song
A Night Like This
Just Like Heaven
Last Dance
Fascination Street
Cold
Charlotte Sometimes
The Walk
A Forest
In Between Days
The Same Deep Water As You
Prayers For Rain
Disintegration
Encore 1:
Lullaby
Close To Me
Let's Go To Bed
Why Can't I Be You?
Encore 2:
Three Imaginary Boys
Hot Hot Hot!!!
Boys Don't Cry
Encore 3:
Homesick
Untitled
Faith

Robert Smith
Simon Gallup
Porl Thompson
Boris Williams
Roger O'Donnell

Songs played:
26
(16 | 4 | 3 | 3)
Day of the week:
Tuesday
Tour:
'The Prayer Tour'
Attendance:
Capacity: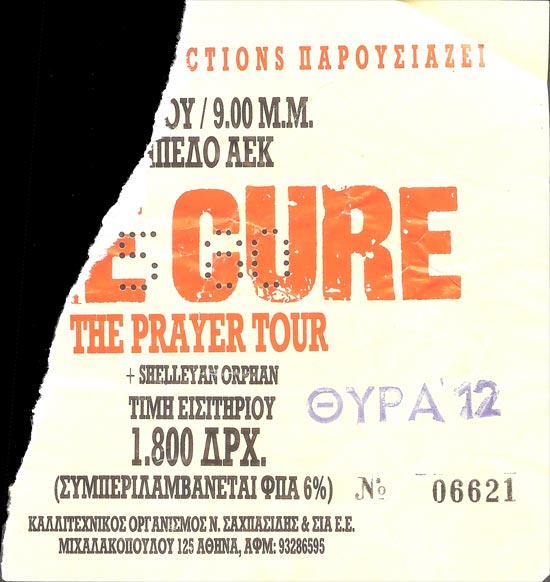 thanks to Costas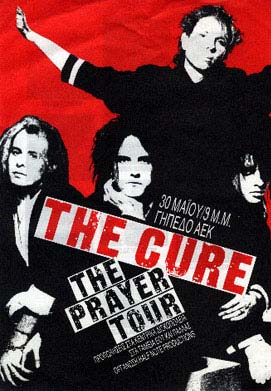 Shelleyan Orphan


Venue address:
[no address yet]
Venue related links:
Venue trivia:
AEK's stadium was Nikos Goumas. It was first opened in 1930. Between 1985 and 1987, the capacity reached as high as 36,766 spectators. A new stadium is yet to be planned. The latest capacity of the stadium was 24,729 (all seated).Nikos Goumas stadium was demolished in 2003.
The Cure appearances at this venue:
Thanks very much to everyone sending mails with contributions for the website.
Please be patient,
I'll include it all ASAP.