1989-06-30 Madrid - Plaza de Toros de las Ventas (Spain)

Mainset:
Plainsong
Pictures Of You
Closedown
Kyoto Song
A Night Like This
Just Like Heaven
Last Dance
Fascination Street
Cold
Charlotte Sometimes
The Walk
A Forest
In Between Days
The Same Deep Water As You
Prayers For Rain
Disintegration
Encore 1:
Lullaby
Close To Me
Let's Go To Bed
Why Can't I Be You?
Encore 2:
A Strange Day
Hot Hot Hot!!!
Three Imaginary Boys
Fire In Cairo
Boys Don't Cry
Encore 3:
Lovesong
Homesick
Untitled
Faith

Robert Smith
Simon Gallup
Porl Thompson
Boris Williams
Roger O'Donnell

Songs played:
29
(16 | 4 | 5 | 4)
Day of the week:
Friday
Tour:
'The Prayer Tour'
Attendance:
Capacity:


'Lovesong' has been played for the first time ever.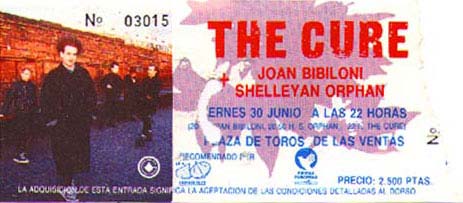 src.
fmt.
intls.
eqpmnt.
note
note
often mislabelled as G.R.M. /
often mislabeled as J.S.V.
About G.R.M. or J.S.V. Master recording:
G.R.M. and J.S.V. both shared the R.?. Master as their own Master recording. They both did not record this concert but just bought a copy on Tape from the Mastertaper. All G.R.M. and J.S.V. versions labelled as AUD 0 are fakes and really are AUD 1 or AUD 2 copies!!!
G.R.M. now claims he recorded this show with the lend equipment of R.?. but only owns an Analog copy of the recording. In earlier statements he admited that R.?. taped the show and he helped him.
J.S.V. traded the R.?. recording as his own Master but just owns a bought copy from master.
list of recordings may be incomplete and could contain wrong informations

Shelleyan Orphan
Joan Bibiloni


Venue address:
c/ Alcalá, 237
28028 Madrid
Venue related links:
The Cure appearances at this venue:
Thanks very much to everyone sending mails with contributions for the website.
Please be patient,
I'll include it all ASAP.