1992-04-22 Newcastle upon Tyne - Mayfair Ballroom (England)

Intro:
Tape
Mainset:
Open
High
Pictures Of You
Lullaby
From The Edge Of The Deep Green Sea
Just Like Heaven
Apart
A Night Like This
Friday I'm In Love
In Between Days
The Walk
Let's Go To Bed
Doing The Unstuck
Fascination Street
Never Enough
Cut
End
Encore 1:
The Figurehead
Charlotte Sometimes
Boys Don't Cry
Encore 2:
A Strange Day
A Forest

Robert Smith
Simon Gallup
Boris Williams
Porl Thompson
Perry Bamonte

Songs played:
22
(17 | 3 | 2)
Day of the week:
Wednesday
Tour:
'Wish Tour'
Attendance:
Capacity:

High
From The Edge Of The Deep Green Sea
Why Can't I Be You?
Friday I'm In Love
Doing The Unstuck
Just Like Heaven
The Figurehead
Open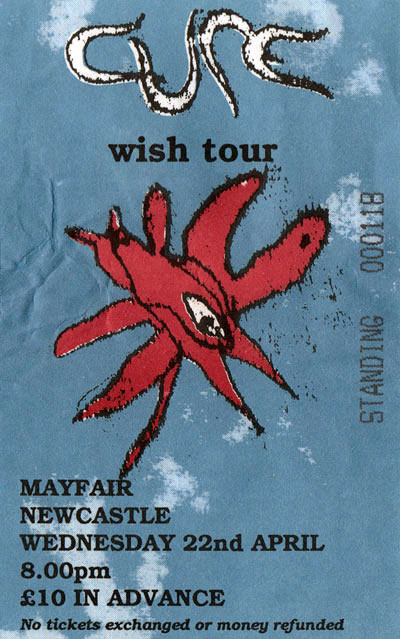 Lefaye


Venue address:
[no address yet]
Venue related links:
Venue trivia:
In 1999 the Mayfair was demolished and replaced with a retail and entertainment venue called The Gate.
The Cure appearances at this venue:
Thanks very much to everyone sending mails with contributions for the website.
Please be patient,
I'll include it all ASAP.