2004-09-17 London - Old Billingsgate Market (England) "MTV Icon"

Part 1:
Taking Off
10.15 Saturday Night
Part 2:
Shake Dog Shake
Fascination Street
The End Of The World
Lovesong
In Between Days
Friday I'm In Love
Jupiter Crash
Lullaby
Before Three
Maybe Someday
From The Edge Of The Deep Green Sea
Alt.End
One Hundred Years
Encore 1:
The Lovecats
Close To Me
Why Can't I Be You?

Robert Smith
Simon Gallup
Jason Cooper
Perry Bamonte
Roger O'Donnell

Songs played:
18
(2 | 13 | 3)
Day of the week:
Friday
Attendance:
Capacity: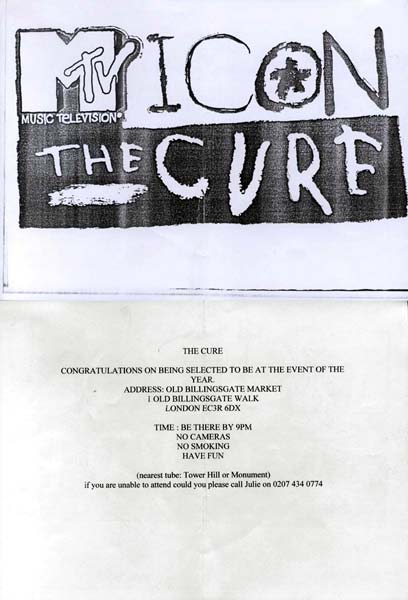 thanks to Olivier


Blink182 (played 'A Letter to Elise', 'All of this' with Robert)
AFI (played 'Just Like Heaven')
Razorlight (played 'Boys Don't Cry')
Deftones (played 'If Only Tonight We Could Sleep...' two takes)


Venue address:
16 Lower Thames Street
London
EC3R 6EA
[no map yet]
Venue related links:
-
The Cure appearances at this venue:
Thanks very much to everyone sending mails with contributions for the website.
Please be patient,
I'll include it all ASAP.