2019-06-30 Pilton - Worthy Farm (England) "Glastonbury Festival"

Mainset:
Plainsong
Pictures Of You
High
A Night Like This
Lovesong
Last Dance
Burn
Fascination Street
Never Enough
Push
In Between Days
Just Like Heaven
From The Edge Of The Deep Green Sea
Play For Today
A Forest
Shake Dog Shake
Disintegration
Encore 1:
Lullaby
The Caterpillar
The Walk
Friday I'm In Love
Close To Me
Why Can't I Be You?
Boys Don't Cry

Robert Smith
Simon Gallup
Jason Cooper
Roger O'Donnell
Reeves Gabrels

Songs played:
24
(17 | 7)
Set length:
118 min
Set time:
21:28 - 23:26
Day of the week:
Sunday
Tour:
'Summer 2019 Festivals'
Attendance:
Capacity:


The Cure are only the second band after Coldplay to headline the Glastonbury Festival four times.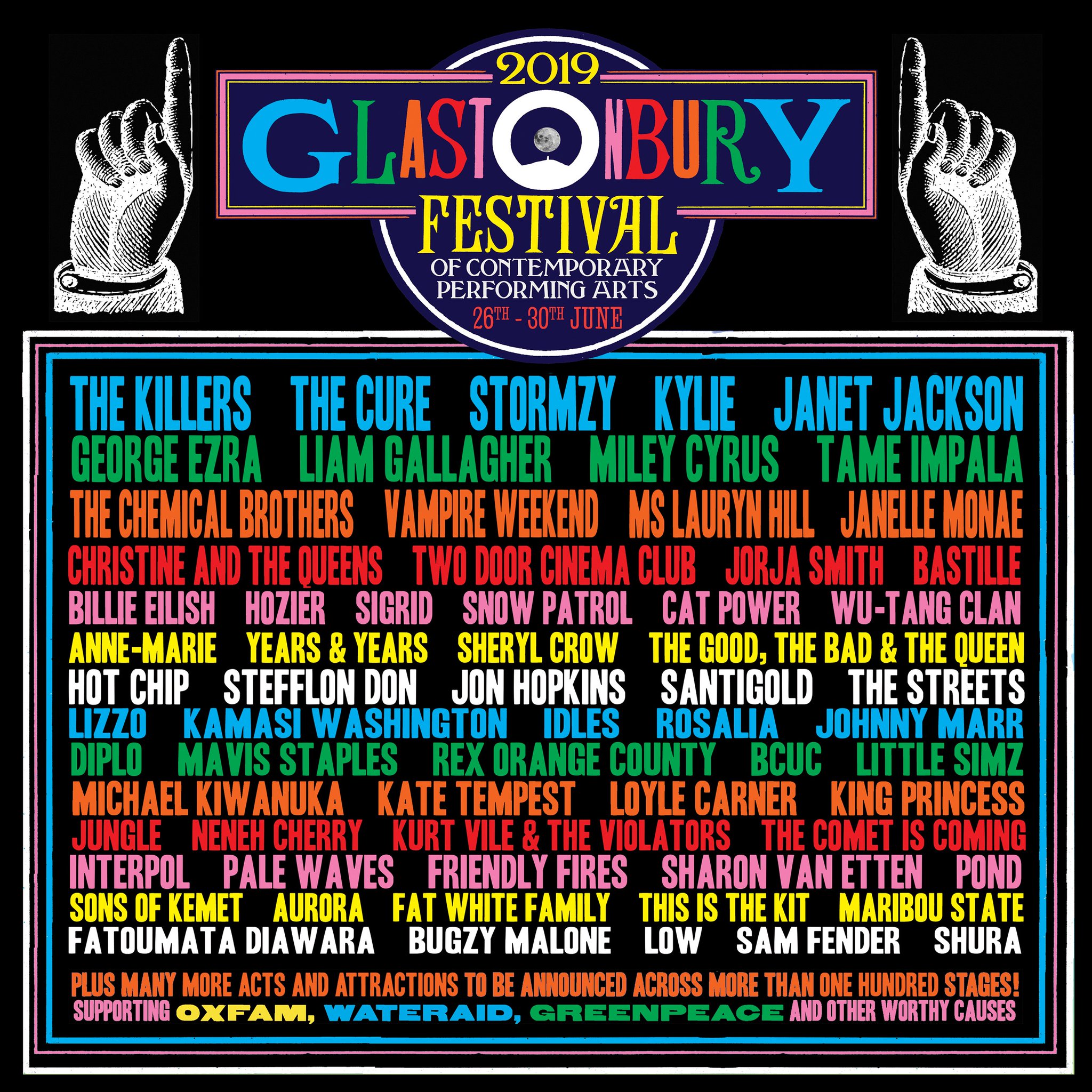 webcast
BBC clips
various clips

11:00-11:45 |
Langa Methodist Church Choir
12:15-13:05 |
Mavis Staples
13:45-14:45 |
Years & Years
15:45-17:00 |
Kylie
17:45-18:45 |
Miley Cyrus
19:30-20:30 |
Vampire Weekend
21:30-23:30 |
The Cure

Venue address:
[no address yet]
Venue related links:
Venue trivia:
from Infoman a very nice guy from the organizers of the Glastonbury Festival:
Think the best answer for you is that the Glastonbury Festival is held at Worthy Farm, Pilton, Shepton Mallet, Somerset. I believe the Cure played the main stage, which is called the Pyramid Stage. If this is not enough, please get back to me. In peace, Infoman
Worthy Farm is the place where the stages stand, Pilton is the town where this Worthy Farm is part of, Shepton Mallet is a bigger town in the near of Pilton, Somerset is the region where Pilton and Shepton Mallet are in. So this means the Glastonbury Festival isn't held in or around the town Glastonbury? Yes, right in every way. The 600 acre Festival site looks towards Glastonbury town with a good view of the famous Tor. In peace, Infoman
The Cure appearances at this venue:


Thanks very much to everyone sending mails with contributions for the website.
Please be patient,
I'll include it all ASAP.